So, you want a new table tennis table? You're in the right place.
We're going to take you through the basics of the different types of ping pong tables, and dive into the technical details, so you can find the right balance between your budget and the features you need. It might seem complicated because there are a lot of different tables on the market right now, but we know our racquet sports and have laid out everything as simply as possible so you can be sure to find what you need here.
First up, let's talk table tennis tables vs ping pong tables, what's the difference?
The International Table Tennis Federation (ITTF) uses the term table tennis (the clue is in the name), as does USA Table Tennis (USATT). However, ping pong and table tennis are the same sports! Generally, the term ping pong is used for casual and recreational play (beer pong, anyone?), and table tennis for the professional sport. Essentially, it does not matter and when you're looking for a new table tennis table or ping pong table, you'll find both terms being used. For that reason, we'll use them interchangeably in this guide, too.
Enough word play, let's talk tables!
Top

Top

Top

STIGA Advantage Competition-Ready Indoor Table Tennis Table
Buy on Amazon

Top

Top

Top

JOOLA Outdoor Table Tennis Table with Waterproof Net
Buy on Amazon

Top

Top

Top

Stiga XTR Indoor/Outdoor Table Tennis Table
Buy on Amazon

Top

Top

Top

STIGA Space Saver Compact Table Tennis Table
Buy on Amazon

Top

Top

Top

STIGA Advantage Lite Recreational Indoor Table Tennis Table
Buy on Amazon

Top

Top

Top

JOOLA Tetra - 4 Piece Ping Pong Table Top for Pool Table
Buy on Amazon

Top

Top

Top

GoSports 6'x3' Mid-size Table Tennis Game Set
Buy on Amazon
Product prices and availability are accurate as of the date/time indicated and are subject to change. Any price and availability information displayed on [relevant Amazon Site(s), as applicable] at the time of purchase will apply to the purchase of this product.
Prices pulled from the Amazon Product Advertising API on:
Types of ping pong table
While there are hundreds of different table tennis tables on the market, they usually fall into a couple of distinct categories:
Indoor or Outdoor
Free-standing or Table-top
Full-size or Compact
Fixed or Folding
The type of table you choose depends on where you intend to put it, and how much space you have. Cost is also a factor, of course. Secondary to these choices, you've got to consider weight, construction material, practicality, color and durability.
We've split this guide up into sections you can skip to depending on your needs. Feel free to jump to the relevent section below, or if you've no idea where to start, keep on reading.
What table tennis table sizes are available?
Table tennis tables generally fall into 2 size categories: full-size and compact. If you're training to play competitive table tennis, it's best to practice on a full-size table. But if you're playing for fun at home, there are many more affordable options at smaller sizes. We haven't come across any tables larger than the professional dimensions just yet.
Professional table tennis dimensions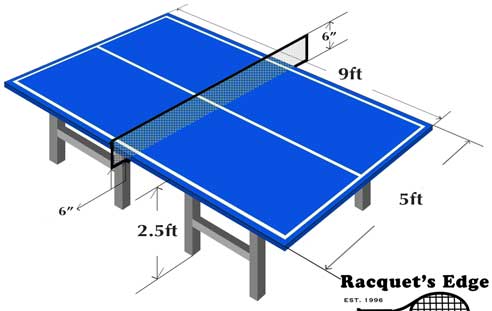 According to the ITTF, a professional table tennis table must be 2.74 meters long, 1.525 meters wide and 76 cm above the floor. If you prefer imperial measurements, the table should be about 9ft long, 5ft wide, 2.5ft high (108″ by 60″, 30″ high) (source).
A table tennis net must be 6 inches high, according to USATT (source), and have 6 inches of overhang on each sode of the table (source).
Watch out for table thickness (see below) – many of the cheaper full-size tables on the market fall short of the minimum ITTF table thickness requirement of 18mm.
Smaller ping pong tables
If you don't have room for a full-size table in your home or garden, or want to save some cash, there are many different compact tables available for amateur and recreational ping pong players. The main sizes are:
Mid-size
3/4 size
Junior size
Mid-size table tennis tables
Mid-size table tennis tables are smaller than professional tables, but more than big enough to accomodate 4 players at a time. Smaller tables are easier to fit into smaller spaces and are lighter and easier to pack up and store away when you've finnished playing. What's more, they tend to be cheaper to buy, which is ideal if you're on a tight budget.
Take the JOOLA midsize compact table, for instance. The table surface is around 2/3 of a standard table size, making it 72 by 36 inches. But what's great is that it is still regulation height (30 inches) so you're not stopping low when playing on it.
3/4 size tables
3/4 size ping pong tables are smaller than professional tables but bigger than midsize tables. There aren't many 3/4 size tables on the market, and some of them are also simply called junior tables. You'll need to check the dimensions of each table individully as all manufacturers use different terms when describing their tables unless it's a professional full-sized table.
Here's one 3/4 size table that caught our attention: the Butterfly 3/4 table tennis table.
You'll notice that the width and length of the table is precisely 3/4 that of a professional table – 6.75 by 3.75 feet, compared to 9 by 5 feet. However, the height of the Butterfly 3/4 table (2.5 feet or 30″) is the same as full-size tables. The net height is also standard (6″). Where this table differs is its thickness: at 12mm, its thinner than the minimum professional thickness of 18mm.
Junior sizes
Junior table tennis tables are smaller than professional tables, but tend to be the same height: there's no real difference between a junior tables and other compact sizes, like mid-size or 3/4 size (see above). Don't be put-off by a so-called "junior table" – it's likely to be the same height as any other ping pong table.
Best compact indoor ping pong tables
Generally, compact tables are lightweight (between 50 and 75 pounds) and relatively thin. They have folding legs and removable nets so they can be stored flat and out of the way.
How much space do you need for a ping pong table?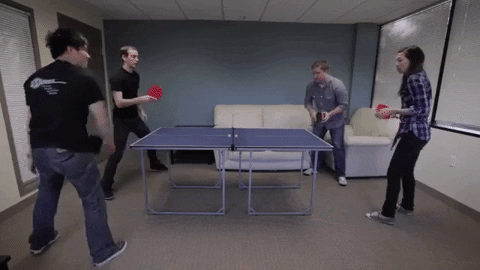 You have to make room not only for the table tennis table, but also for the players! More room is needed where the players stand, at the ends of the table than at the sides, but you'll still need plenty of space all around the table.
If you're having a full-size table, you'll need a space that's at least 15 feet wide and 23 feet long (around 4.5 meters by 7 meters).
Make sure you measure the space where you'll be keeping your table before making a purchase and allow at least 3 feet extra for each side, and 6 feet at each end. If space is tight, you can opt for a midsize table to save room, or have an outdoor table that can be used on lawn or anywhere else you've got room outside.
Indoor vs Outdoor table selection
Ultimately, you can choose to put your ping pong table wherever you like. However, an outdoor table will be more durable and weatherproof and won't need to be brought in every time you're done playing.
Outdoor tables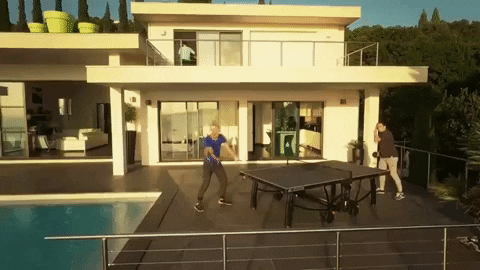 Outdoor ping pong tables are constructed differently to indoor tables: primarily, they are made from metal or composite plastics that are far more durable than MDF or fiberboard indoor tables.
Benefits of outdoor tables:
Easy to move
Weatherproof and can be stored anywhere
Durable and long-lasting
The bad bits:
Can be more expensive
Are not competition-ready as the top is usually thin
You're not going to use it much in the winter!
Can I use an indoor table outdoors for a short time?
Technically, yes, you can use an ping pong table outside for a few hours if the weather is dry. However, if there's direct sunlight on the table for any length of time it could cause the playing surface to warp and become unusable. Even cold or damp temperatures in a garage or basement could cause a table tennis table to warp over time. If you plan to play outdoors or store your table outside of your home, it's best to buy an outdoor-ready table.
How are outdoor tables different?
To show you how outdoor tables are different, and explain why they generally cost more, let's compare two similar models from popular Swedish table tennis manufacturer STIGA.
STIGA Advantage Indoor vs STIGA XTR Outdoor
These two tables, the STIGA Advantage Indoor and the STIGA XTR Outdoor may appear similar, there are actually several key differences.
The most obvious difference is price. The outdoor table is around $100 more than a comparable indoor one. And here's why: it's made using an aluminum surface that's completely weatherproof. The indoor equivalent is made from X, which is cheaper to manufacture.
There are a few additional differences: the outdoor table has slightly thicker steel legs (1.25″ compared to 1.2″), while the indoor table has rubber-coated levelers to avoid scratching your floors. The outdoor table is also slightly lighter due to its aluminum construction.
Both tables have independent halves (allowing you to use each as a stand-alone table), and a safetly latch system to prevent unwanted opening during storage.
Ultimately, you'll have to splash out a few extra dollars for an outdoor table if you need to it withstand rust, sunlight, rain and all-weather conditions. It's better than ending up ith a soggy, warped table, after all!
Best Outdoor Ping Pong Tables
You'll need a bigger budget for as outdoor table tennis table: all the top models we reviewed start at several hundred dollars.
How thick does a table tennis table need to be?
One of the key differences between top quality and cheap tables is surface thickness. You might not realize this, but table thickness is really inportant in table tennis because it affects how the ball bounces.
The ITTF specifies that professional tournament tables must be between 18 and 30mm thick (roughly 0.7″ to 1.18″). Recreational tables vary in thickness, and the cheapest models are usually the thinnest.
For instance, let's examine this popular entry-level table, the JOOLA Midsize Ping Pong Table.
The JOOLA table has a surface thickness of 16mm (5/8″), which, if you've been reading carefully, you'll know is less than the professional table minimum of 18mm. But that doesn't really matter since this is a 2/3 size table.
The more expensive STIGA Advantage table is also 5/8″ thick, so don't assume that price will automatically get you a thicker playing surface.
What's the difference between thin and thick playing surfaces anyway?
Thin playing surfaces can easily warp and become uneven
Thicker surfaces provide better bounce
How easily do table tennis tables fold?
Unless you plan on having a permanent table tennis room in your house or garden, you're going to need to get hands on when setting up and putting away your new table tennis table.
Almost all tables are foldable and can be stored away flat. Some tables will require you to take the net up and down between uses, while others will store with the net attached.
Cheaper tables, like the JOOLA Midsize, have simple folding legs. The table comes in two halves so you can pop out the legs on each half and then attach the net clam in the middle.
The issue with this type of fold is there will always be a bit of a gap between both halves of the table. If the ground you're playing on is even slightly uneven, you could end up with a bit of a sloping or wobbly table.
Used vs New Table Tennis Tables
Table tennis tables are not exactly cheap to buy new. Since they're generally hard-wearing and long-lasting, you can save quite a bit of money by picking up a second hand ping pong table on eBay or via local listings.
Best portable tennis nets
Best clamped table tennis net: STIGA Premium 72″ Clipper Net
Best portable ping pong net: Franklin Sports Table Tennis To-Go Net
If you haven't got room for a ping pong table, or don't want to spend the extra money, there is a simple and cheap way to play table tennis at home: get yourself a net and some paddles and you can convert any table into a ping pong table! There are of course some pros and cons associated with these temporary net, so let's get into how they work and what kind of tables you can use them on.
You can also upgrade an old ping pong table with a new net to give it some extra life.
Pros:
Cheap
Doesn't take up extra space in your home
Quick to put up and away again
Cons:
Your table needs to be large for it work
Balls can bounce unevenly if your table is not smooth
Net clamps can leave dents or scratches on your table
Portable nets can sag and move around during play
If you happen to have a large, relatively smooth dining table in your home, then you'll get a pretty good experience from using a portable or clamp-on net on any table. Setup is relatively simple and portability means that it's easy to take it on vacation or to a friend's house whenever you want.
If you don't have a suitable table for a clip-on net, the next best thing is a tabletop ping pong set.
Best tabletop and conversion ping pong table
Also known as conversion tables, tabletop ping pong tables are exactly what they sound like: the top part of the table that can be placed directly onto any other table, including pool tables, dining tables or outdoor tables.
Best tabletop ping pong table: JOOLA Regulation 2-Piece Conversion Table Tennis Top
Conversion tables usually come with net set too so you'll only need to choose a ping pong paddle and some balls to go with it before you can start playing.
Here's a more detailed comparison at the top ping pong conversion tables, including everything you need to know about choosing one.
Best portable ping pong tables
If you want a table tennis table that's easy to put up and down, and small enough to store away in a closet or cupboard when not in use, then a mini or portable ping ping table could be just what you need.
We've written more on this in our guide to the best portable ping pong table, but here's a quick summary:
Ping pong table FAQs
What color should a ping pong table be?
According to the official ITTF regulations, a table tennis table must be "uniformly dark coloured and matt", but a specific color is not specified. Most ping pong tables are blue or green: the choice is yours!
Where is the best place to buy a ping pong table?
We think that buying a table tennis table online is great because it's easy to shop around and find deals, and you'll be able to arrange quick delivery. It's not like you'd be able to fit a ping pong table in your car, anyway! There are several top ping pong table suppliers. Amazon is our top pick, thanks to their great delivery and returns service, but we also like MegaSpin and Dick's Sporting Goods, and there are good deals to be had sometimes at Walmart.
What is the best type of led light to hang over a ping pong table?
Indoor ping pong tables can benefit from some LED lighting so you can clearly see the ball, and also set the mood for a good time (see Susan Sarandon's ping pong club for an idea on what good lighting looks like.
According to ITTF competition rules, light intensity, measured at the height of the playing surface, should be at least 600 lux uniformly over the playing surface and at least 400 lux elsewhere in the playing area. Olympic rules require even brighter playing conditions. Frankly, you don't need to light your table quite this much.
If you want to hang a light over your ping pong table, make sure your ceiling is high enough and you'll be able to hang a standard pool table light and get the same results.
What is the best time of year to buy a ping pong table?
You'll find ping pong tables on sale all year round, but most people are interested in buying a new table in November or December (ready for a Christmas present), or summer. According to data we collected by tracking the cost of the bestselling tables on Amazon over a 12 month period, we can conclude that prices fluctuate randomly throughout the year. Therefore, the best time to buy a ping pong table is whenever you need one!